Here it is…the whole enchilada, the entire kit 'n kaboodle.  This is a compilation of every blog post ever written.
Exactly 58 ways to help you find freedom around food, feel at ease in your body, and be at peace in your eating. 
Happy reading!
(Want a chance to win a $50 gift card AND a free coaching session?! Share your favorite post and be entered to win. Instructions at the bottom)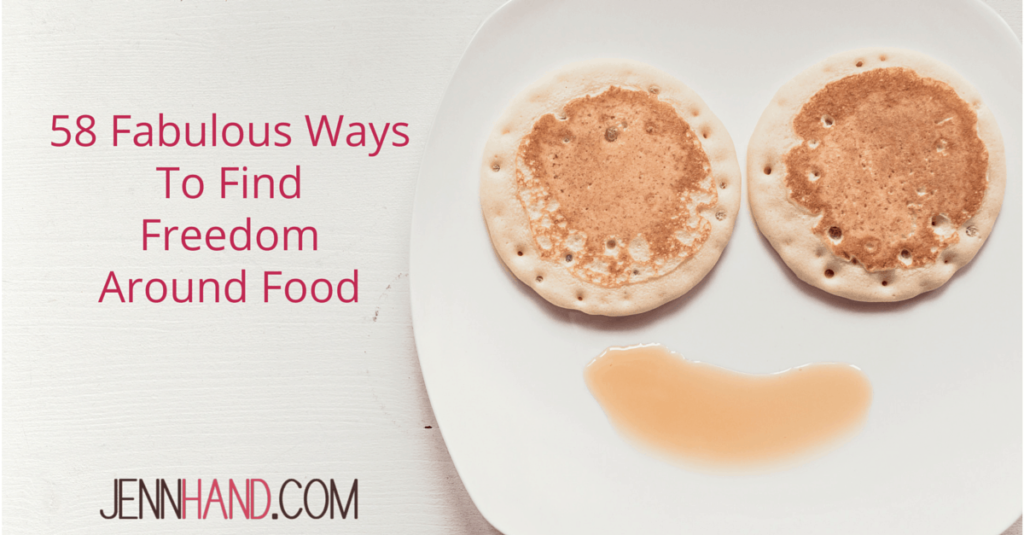 Why Eating Healthy Is Like Dating A Guy That Looks Good On Paper
The 3 Things You Need To Stop Doing To Be Happier Today
The Real Reason You Can't Accept Your Body
10 Things To Do Instead of Eating
If You Think You Need To Eat Diet Foods To Lose Weight, Read This!
What To Do When You Want To Be Farther Along Than Where You Actually Are
Crazy Numbers in The Weight Loss Industry! (And Trying A Different Approach…)
The First Step In Getting Off The Diet Roller Coaster
3 Ways To Feel Good Naked (Even When You're Feeling Fat)
You Know Everything About Nutrition. So Why Are You Still Overeating?
Your Guide to Surviving the Fitting Room Mirrors
3 Things Never to Say to Yourself Around Food
The One Thing You Must Know To End Emotional Eating For Good
The 5 Books You Must Read If You Struggle with Food or Weight
How To Eat Like A Normal Person
The Key to Lasting Weight Loss
What To Do When You Hate Seeing Photos of Yourself
Another Year, Another "I'm Going on a Diet"?
How to Not Eat Too Much at Christmas (5 Steps You Can Take This Week!)
Why I Stopped Looking at my Body in the Mirror Everyday (And Why You Should Too!)
How Taking Care of Yourself Helps You Stop Binging
3 Reasons Why Overeating Can Be a Good Thing
Sick of the "Love Your Body at Any Size" Campaigns?
What To Do When The Bakery Aisle Is Calling Your Name
Does Your Eating Goes Haywire When You're Out of Your Routine?
To-Do List Too Long? Try This (Hint: It's Something You Do All The Time!)
Are Your "Food Rules" Holding You Back?
Love Yourself Now (Not 10 Pounds From Now)
Tired of Always "Starting Over" on Monday?
Convinced That Everything Would Be Better If You Were Skinnier?
How to Banish the "I'll Be Happy When" Syndrome
Are The Words "You Look Thin" Music To Your Ears?
Think Eating Less Will Make You Skinnier? Think Again.
What to Do When Going Out to Eat is Stressful
How To Make Peace With The Scale
How to Break the Myth of "Perfect" Eating
What To Do When You're Feeling Fat
Are You Too Critical of Yourself?
Getting Through That "Body Discomfort" Feeling
How to Not Eat The Entire Pantry (Even When You Want To)
Getting Through That "Body Discomfort" Feeling
Have You Ever Thought "Escaping" Was The Answer?
How Yoga Can Transform Your Relationship With Your Body
Banish Your "Love" Affair with the Scale
If You Eat What You Want, Will You Get Fat?
4 Helpful Hints to Deal with Discomfort
The Uncomfortable Side of Life
Eating to Live, Not Living to Eat
Here's How It Works:
1. Share your favorite blog post on Facebook or Twitter.
2. Tag me in the post. Tagging me notifies me of your entry.
(On twitter, it's "@jennhand2". On Facebook, tag "JennHand". If it doesn't let you try "@jennhand")
3. Each shared post enters your name once in the drawing.
4. You can share up to ten posts (and be entered 10 times!)
Winner will be picked next Wednesday, 6/28!